Nightmare Before Christmas Neckties
Dress down for your casual Friday with a playful necktie featuring Jack Skellington or other pattern inspired by the Nightmare Before Christmas. Or dress up with a themed necktie that has a subtle pattern, the design of which is only noticeable upon very close inspection. Whatever the occasion, an officially licensed neck tie like the ones featured here makes a perfect gift for fans of Tim Burton's strange masterpiece.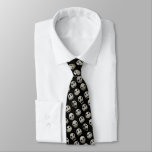 Jack Skellington's haunted face is featured in several different moods in this repeating pattern against a black background. From afar this one is still pretty easy to recognize, so it's great for Halloween or Christmas events, or other casual events where a fun tie and wacky fandom will be appreciated.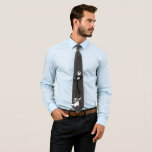 There's no mistaking the bold illustration on this tie: Jack Skellington is large, taking up much of the visible space, along with his ghost-dog Zero. The sharp print looks fantastic against a grey and black striped background.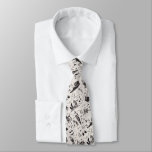 Iconic images from the Tim Burton classic are featured here in simple black and white illustration style. This tie might look like an art print when not examined closely, making it suitable for a variety of situations.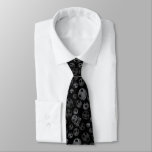 Skellington's face is featured in a whimsical repeating pattern. The faces are dark grey against a black background. The pattern is clear; this tie is perfect for holiday parties and other fun, casual events.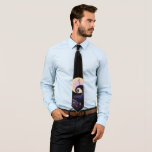 This necktie features the iconic image of Jack Skellington standing atop a curled mountain with the bright moon behind; it's a perfect tie for fans of the Nightmare Before Christmas!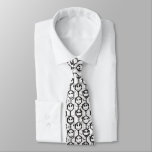 Jack Skellington makes different faces on this pattern tie. The faces appear to break through the white and grey checker-box background pattern.