Disney Character Halloween T-Shirts
Celebrate the spookiest holiday of the year with fun Disney characters and designs! These officially licensed Disney Halloween t-shirts are available for the whole family with multiple styles and apparel designs from which to choose! Check out some of these awesome designs for Halloween!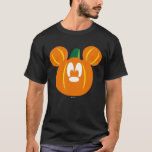 This cute Halloween t-shirt is a bold orange image of a pumpkin shaped like Mickey Mouse, complete with the mouse's big round ears. The pumpkin has been carved to show Mickey's eyes and nose -- he has an alarmed expression that's perfect for the spooky holiday of Halloween!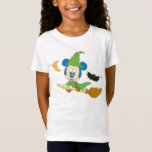 This darling image in mostly blue and green features baby Mickey Mouse flying on a broomstick. Mickey wears a green witch cloak and a witch hat with stars. He flies by the moon, along with a bat.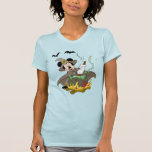 Minnie Mouse wears a traditional witch outfit -- dark cloak and buckled pointy hat -- as she gleefully stirs a cauldron of potion. This cute original design is great for Halloween and for fans of Minnie Mouse!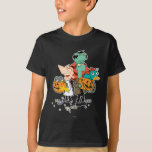 Characters from Phineas and Ferb are dressed up for Halloween and ready to go trick-or-treating. Phineas is Dr. Frankenstein, Ferb is his Monster, and he carries a zombie Perry in his candy pail. This is a fun Halloween tee for fans of the animated series!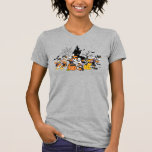 This cute and detailed Halloween t-shirt is full of popular Disney characters: Mickey and Minnie; Pluto and Goofy; Daisy and Donald. All are dolled in orange and black fancy dress outfits. They stand before a spooky backdrop of a haunted house, spider webs, bats, and more.